Level 1 Certification Training – Brussels
18 September
–
20 September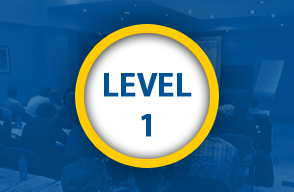 Maintenance technician in ultrasound applications
The training that will have an immediate and positive impact on the performance of your installations and their profitability.
Training Objectives:
Boost inspector confidence;
Improve understanding of ultrasonic technology;
Ensure that the inspector's level of knowledge meets the standards of the ultrasound method;
Highlight and clarify the many unique benefits of ultrasound detection in predictive and preventive industrial maintenance programs.
What you will learn:
The properties of ultrasound waves and their use in predictive maintenance applications;
The characteristics of compressed air and other leaks;
How to quickly detect and locate leaks in industrial environments;
How to monitor the ideal level of lubrication of bearings with ultrasound detection;
How to prevent wear and tear on rotating machines with ultrasound detection;
How to check the correct operation of steam traps with ultrasound measurements;
How to spot problems on electrical circuits by listening to the ultrasound they generate.
Conditions of participation:
Price of the training: €1 123.50, tax excl / participant;
Please note that all registrants must fully pay their training fee prior to

the commencement of training. Upon an enrollment in the course you will receive an

invoice with clear remittance instructions

The number of participants is set at 5 people minimum to 15 people maximum;
If the number of participants is insufficient during a session, the people already registered will be automatically registered on the next date.
Overview of the Level 1 training
Trainer:
Haris Trobradović
Area Sales & Training Manager
Born and raised in Zagreb, Croatia, Haris spent 20 years in wood processing and manufacturing before joining the Ultrasound, Condition Monitoring and Reliability journey as a member of the SDT International team.
His focus is on improving Reliability performance through all aspects, especially Ultrasound technology, Condition Monitoring and, as a strong passion, Condition Based Lubrication. He is also deeply involved in the improvement of Reliability and proactive mindset through Lubrication excellence.
Haris is also a Level 2 certified ultrasound inspector with 20 years' experience in product design and set-up. As a Certified Reliability Leader (CRL), he understands the interconnectivity between asset condition management and an effective reliability culture. Active in more than 40 countries, Haris helps implement ultrasound programs in all types of industry. He is a mathematician with an interest in mechanical engineering.
____________________________________________________________________
Inscription :
Share This Story, Choose Your Platform!