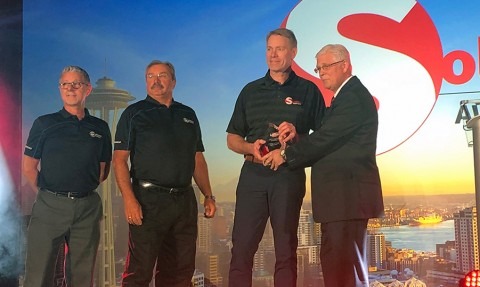 Voted by industry practitioners to be the best new idea in 2019 for Industry 4.0 IoT Digitalization. The SDT340, together with UAS4.0, is a Cloud Connected Condition Monitoring Solution that knocks down data silos for reliability leaders and champions of asset management.
Allan Rienstra had the honour and privilege to be interviewed by the judges and be on hand at TRC19 in Seattle to accept this important award on behalf of a great team.
Allan paid tribute to a great thinker and mentor, Jean-Paul EMMANUELE who led our team to the finishing line but was unable to cross it. Joining him at TRC19 was Paul Klimuc and Keith Macaluso, CRL, success managers to LUDECA, INC. guided by Alex Nino, CRL and Frank Seidenthal, CRL.
Terrence OHanlon together with Maura Abad and the entire Reliabilityweb.com team put on one of the top learning events of the year. This award further demonstrates our alignment, as Reliability Partners, to the Uptime Elements Framework for Reliability and Asset Management.