Waarom SDT kiezen als u ultrasone partner voor uw onderhoudsprogramma?
Om echt te luisteren naar uw faciliteiten
100% effectieve werkingstijd bestaat niet. Apparaten raken defect. Het doel is om dergelijke storingen te voorspellen, in te plannen en het effect ervan te beperken.
SDT Ultrasound Solutions is een partner die u helpt de gezondheid van uw site in de gaten te houden, reactieve acties te beperken en een proactieve benadering op te bouwen.
Waarom zou u dan voor SDT kiezen? We leveren al 47 jaar lang de ervaring, planning en leiderschap die bedrijven als dat van u nodig hebben om resultaten van wereldklasse te bereiken.
Veel meer dan eenvoudige metingen in decibel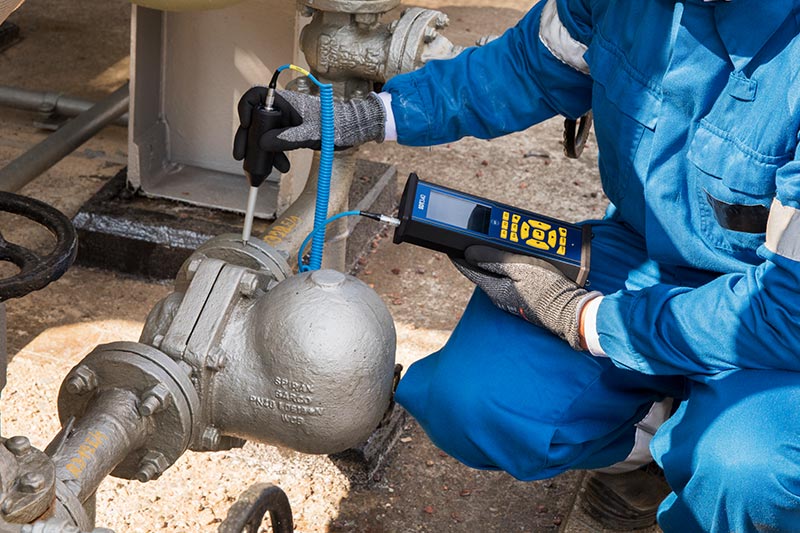 De monitoringsindicatoren (4 Mi) kenmerken de gezondheid en de prestaties van een machine en bieden meer inzicht in de veranderingen.
Vóór de 4 monitoringsindicatoren baseerden ultrasone controleurs trends op één enkele, statische meting op een willekeurig moment in de tijd. Als de meting op de verkeerde tijd plaatsvond, werd het defect gemist of buitensporig versterkt. Met deze vier indicatoren kunnen controleurs de verwervingstijd instellen voordat de metingen worden vastgelegd. Het resultaat is een meer representatieve en nauwkeurige gegevensverzameling.
Een bouwblokkenconcept dat past bij uw behoeften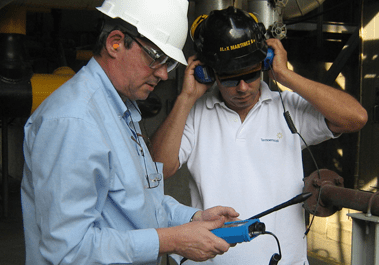 Het bouwblokkenconcept van SDT combineert opties voor hardwareflexibiliteit, software voor gegevensbeheer en sensoren die ergonomie en gebruiksgemak nastreven voor uw SDT ultrasone detector. Het SDT-platform biedt mogelijkheden om uw programma te upgraden zodat het met u meegroeit.
Kies uit verschillende gegevensformaten, en voeg vervolgens sensoren en software toe om een unieke tool te bouwen die aan uw behoeften voldoet. Verouderde technologie behoort tot het verleden.
Vertrouwbare ondersteuning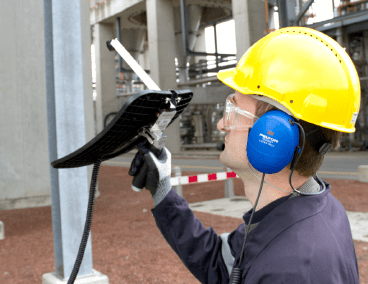 Een nieuw apparaat kopen is niet het einde van uw relatie met SDT. We leveren de training en ondersteuning die u nodig hebt om optimaal van uw ultrasone programma te kunnen genieten.
We zijn niet zomaar een leverancier, maar uw partner bij het creëren van een cultuur van toestandsbewaking rond ultrasone technologie. U richt u op uw site, en wij zorgen voor training en ondersteuning zodat u uw site correct kunt onderhouden.
On-board measurements
Ultrasound, Vibration, Infrared temperature and Tachometer.
Dual Sensor Inputs
One for ultrasound measurement and one for vibration.
Time signal and spectrum
On-screen time waveform and FFT. Panning and zooming for signal navigation. Display of the 10 highest values.
Frequency range
20 kHz to 50 kHz (ultrasound). 10 Hz to 10 kHz (vibration)
Sampling rate
32, 64, 128 and 256 kHz oversampling FocUS Mode
Signal length per recording
600 seconds (32 kHz sample rate) or 150 seconds (128 kHz focUS Mode )
Data memory
4.2 GB allowing the storage of 71 minutes of signal sampled at 128 kHz or 286 minutes at 32 kHz
Sensitivity
Class I instrument exceeding ASTM 1002-11 requirements for gas leak detection using the appropriate sensor.
Display
Full color TFT 3.5" screen 320×480. Active area: width 48.96 mm (1.93") x height 73.44 mm (2.89")
Bluetooth
For audio streaming
Housing
Extruded aluminum, shock proof rubber protections
Dimensions
L x W x H 221 x 93.5 x 44 mm (8.7 x 3.7 x 1.7 inches)
Weight
720 g (25.4 oz), including battery
Headphone
Wired headset and wireless Bluetooth headset. The SDT340 is compliant to noise exposure health and safety requirements when using SDT provided models