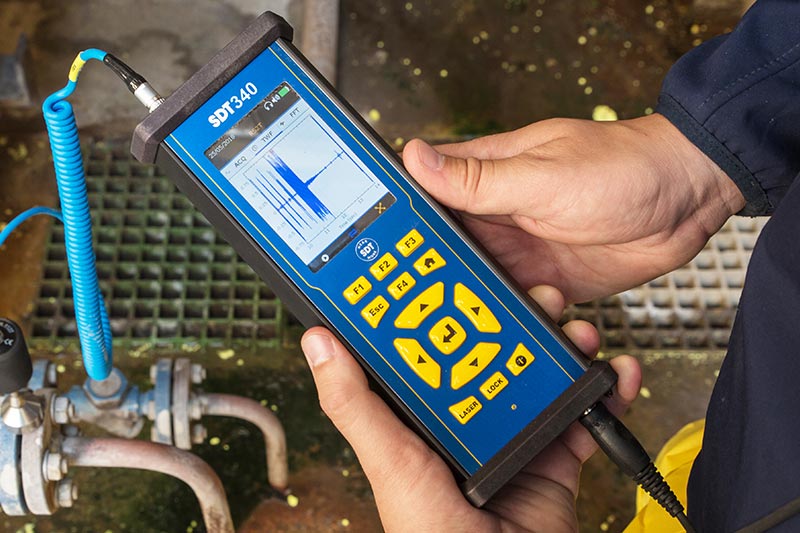 Acht ultrasone toepassingen definiëren het nut van ultrasoon testen
Ultrasoon testen (UT) is een kernelement binnen het toestandsbewakingsdomein (ACM, Asset Condition Management) van de Uptime Elements™. De grootste voordelen van succesvol ultrasoon testen zijn vooral de veelzijdigheid, de korte leercurve en het snelle rendement op investering.
Hieronder vindt u alle SDT-producten en hun potentieel om uw onderdelen een betrouwbaarheid van wereldklasse te bezorgen.
On-board measurements
Ultrasound, Vibration, Infrared temperature and Tachometer.
Dual Sensor Inputs
One for ultrasound measurement and one for vibration.
Time signal and spectrum
On-screen time waveform and FFT. Panning and zooming for signal navigation. Display of the 10 highest values.
Frequency range
20 kHz to 50 kHz (ultrasound). 10 Hz to 10 kHz (vibration)
Sampling rate
32, 64, 128 and 256 kHz oversampling FocUS Mode
Signal length per recording
600 seconds (32 kHz sample rate) or 150 seconds (128 kHz focUS Mode )
Data memory
4.2 GB allowing the storage of 71 minutes of signal sampled at 128 kHz or 286 minutes at 32 kHz
Sensitivity
Class I instrument exceeding ASTM 1002-11 requirements for gas leak detection using the appropriate sensor.
Display
Full color TFT 3.5" screen 320×480. Active area: width 48.96 mm (1.93") x height 73.44 mm (2.89")
Bluetooth
For audio streaming
Housing
Extruded aluminum, shock proof rubber protections
Dimensions
L x W x H 221 x 93.5 x 44 mm (8.7 x 3.7 x 1.7 inches)
Weight
720 g (25.4 oz), including battery
Headphone
Wired headset and wireless Bluetooth headset. The SDT340 is compliant to noise exposure health and safety requirements when using SDT provided models