Reducing your energy costs is a difficult challenge faced by many industries in today's economy.
But, it doesn't have to be.
Undetected air or steam leaks, bearing failures and electrical panel faults cost you real money. However, there's a way to cut these extra expenses from your energy bill.
Preserve the health of your assets with the SDT200 ultrasound detector. Hear air leaks, trend and monitor the condition of your bearings, safely inspect electrical panels and schedule repairs on your own terms, long before they shut you down – all with ultrasound technology.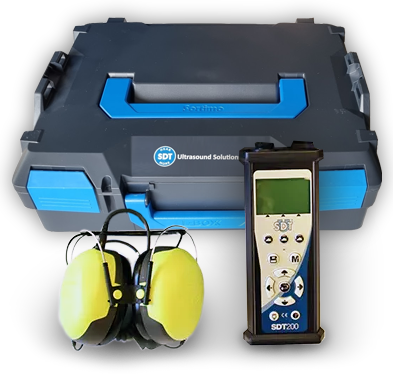 Improve asset reliability with your SDT200:
A holster is available as accessory to protect and keep clean the SDT200.
The heavy-duty nylon holster for the SDT200 prevents dust ingress, and general wear and tear, while keeping the encased ultrasound unit clean.
On-board measurements
Ultrasound, Vibration, Infrared temperature and Tachometer.
External Sensors
2 ports (Lemo 7pin connector)
Data Logger SS/SD
At least 4000 Static measurements spread over 1000 locations.
Data Logger DD
idem SS/DD plus 15,000 seconds of Dynamic data @8k sampling rate or 3,700 seconds for 32k
Data Logger SU/DU
At least 10,000 Static measurements and 15,000 seconds of Dynamic measurements @8k sampling rate or 3,700 seconds @32k spread over 10,000 locations
Communication
USB Interface
Auto Power Down
After preset time – adjustable by user
Response Time
<9 milliseconds
Sensitivity
Class I instrument exceeding ASTM 1002-11 requirements for gas leak detection with the appropriate sensor.
Headphones
High quality industrial headset having a Noise Reduction Rating (NRR) of 25 dB
Intrinsically Safe
ATEX certification meets directive 94/9/EC (II 1 G Ex ia IIC T3/T2 Ga) comparable to Class I, Div 1, groups A, B, C & D Recognized by CSA
Housing
Extruded Aluminum
Dimensions
226 x 90 x 40mm (8.9 x 3.54 x 1.57 inches)
Weight
30g /29.3oz (with battery & holster)
Headphone
High quality industrial headset having a Noise Reduction Rating (NRR) of 25 dB
Battery Pack
Rechargeable 8 cell 4.8v, 4600mAh NIMH