Your first line of defense for

Condition Monitoring

.

The first signs of change in the operating condition of an asset are usually indicated in the

ultrasound frequencies

.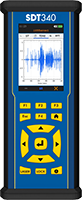 SDT340
Inspect, detect, measure and analyze the condition of your assets. View ultrasound and vibration directly on the SDT340's color display or on UAS3 software.
Predict failures, control energy costs and
improve the overall reliability of your assets.