Detect, Trend, and Analyze Ultrasound and Vibration
SDT340 continues the SDT legacy of excellence providing data our customer
s can trust.
Detect, trend, and analyze asset health by viewing the ultrasound and vibration time signal and spectrum directly on the SDT340.
A reliable asset delivers its engineered value when it is most needed. And while the responsibility for reliability belongs to everyone, it is the maintenance team who is called upon first, when things go wrong. For this reason, the SDT340 connects maintenance to reliability in ways we never imagined possible.
Manage the results and organize your condition monitoring strategy by uploading them to the Ultranalysis® Suite 3 software (UAS3). Control any combination of assets and tasks thanks to its flexibility.
SDT340 keeps inspectors connected to their assets. Live timewave and spectral views allow inspectors to perform in-the-field diagnosis and analysis, a job previously performed in the office.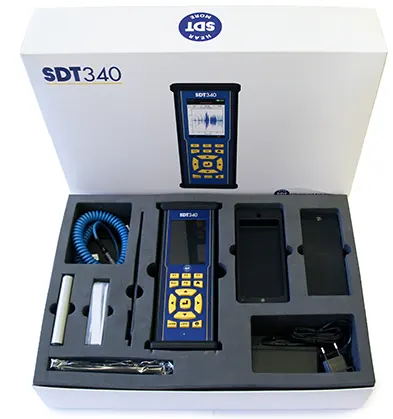 Use your SDT340 ultrasound solution for a number of applications in your plant: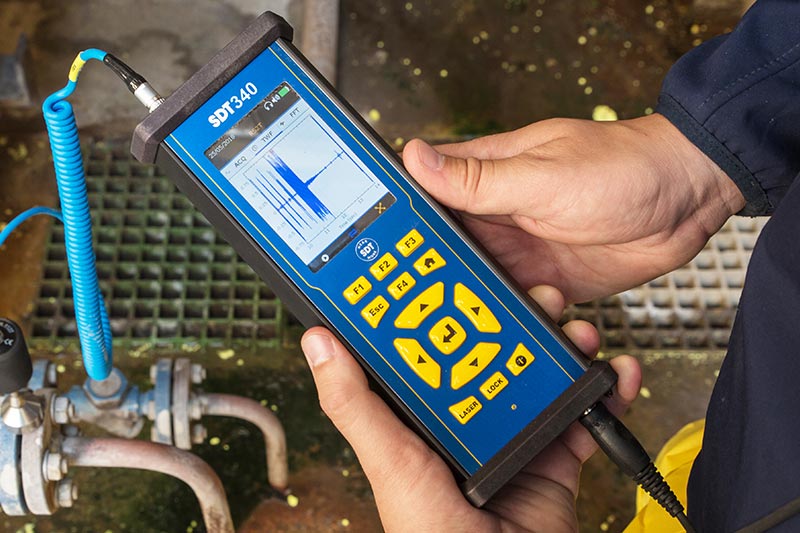 SDT340's brilliant color display boasts crystal clear resolution on a generous 340×480 mm, 3.5" screen. The SDT340 gives you the option of viewing essential information directly on the detector itself, and allows you to view images including the machine, the specific point to be examined and the sensor required – all easily imported from
UAS3
.
With clear visual indications at your fingertips, you can carry out inspections confidently and efficiently, ensuring that every task is done precisely and that measurements are taken in exactly the same place every time. Once you've taken these measurements, simply return to the UAS3 software to effortlessly update the measurements for the corresponding point. No more struggling to remember information or risking errors due to memory lapses. The enhanced SDT340 lets you conduct inspections with precision and ease, saving you time and struggle in the field.
To top it off, thoughtful icon navigation speaks to the user in any language, while a split screen view adds versatility to in-the-field tasks.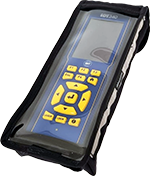 The extruded aluminum case is protected by shockproof rubber.
A holster is available as accessory to protect and keep clean the SDT340.
The heavy-duty nylon holster for the SDT340 prevents dust ingress, and general wear and tear, while keeping the encased ultrasound unit clean.
High Signal Resolution (HSR) is a game changing feature. Increased sampling rate and better sensitivity lend confidence and accuracy to diagnosis. However, mechanical anomalies are really good at hiding. HSR connects inspectors with the tools to reveal those hard to decipher defects.
Too many maintenance teams work in a silo-mentality. SDT340 is here to break down those barriers, to stimulate teamwork, to extend the circle of trust beyond the walls of the maintenance department and to invite input from every stakeholder.
Knowing a machine will fail doesn't stop it from failing. Especially if the knowledge isn't shared. SDT340 creates a naturally collaborative atmosphere by making asset condition information ubiquitous. Teams enter the next outage with a game plan. Parts ordered? CHECK! Labor scheduled? CHECK! Procedures reviewed? CHECK! Executive Sponsor on board? CHECK!
We also think that collaboration should not be confined to your own organization. That's why the SDT340 opens the door for collaborative partnerships between Solutions Provider and CM Practitioner. The environment for B2B relationships is fertile. Organizations are opening themselves to cooperate with solutions providers who engrain the best interests of their client directly into their mission statement.
Innovations on the SDT340 are evidence of the connected partnerships forged with our customers. SDT340 connects our customers to our vision to be the technological pioneer in ultrasound hardware, software and training. Long considered the preeminent global thought leader for ultrasound, SDT340 demonstrates how we continue to push the boundaries of this important technology. Customer partnerships connect us to their pain. Above all, they show us reasons to think differently, to explore new ideas, improve existing ones and create hardware platforms that represent new possibilities.
By remaining connected to our partnerships, we are able to continue producing solutions that are innovative, efficient, accurate, robust, reliable, easy to use, necessary, and affordable. Our connected partnerships empower us to keep on improving the SDT340.
We feel that our customers need to be informed of these innovations and improvements. That is why there is a dedicated section in the device, where users can easily explore all the exciting additions to their predictive maintenance tool. With the "About the update" section of the SDT340, you'll never have to wonder what's new!.
Imagine never paying for a repair to your ultrasound detector again. With SDT's unprecedented and unmatched Lifetime Warranty, keep your instrument calibrated and well cared for and never pay for a repair again. We build good products that stand the test of time. That might sound boastful, but we're passing the rewards of this confidence to our customers. Our reputation stands behind everything we do.
UAS3 Analysis Software

Manage data and organize team strategy with
Ultranalysis® Suite 3
, the most flexible, complete condition monitoring software solution available.