Advanced Ultrasound and Vibration Data Collector
Detect, trend and analyze ultrasound and vibration data from all your industrial equipment
SDT340 is an all in one condition monitoring solution designed to inspect and gather data from every potentially faulty industrial asset present in your plant. With its cutting-edge technology and user-friendly design, it's your key to unlocking valuable insights into asset health.
Easy Data Management
With the SDT340, you can easily upload and organize results using the Ultranalysis® Suite 3 (UAS3) software. This gives you the flexibility to customize your condition monitoring strategy, ensuring that you're always in control. No more struggling to remember measurements or risking errors due to memory lapses. The enhanced SDT340 simplifies the inspection process, saving you valuable time and effort in the field.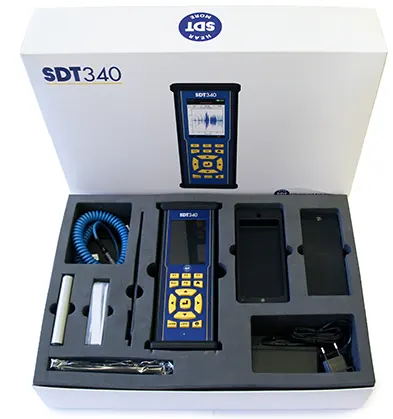 Use your SDT340 ultrasound solution for a number of applications in your plant: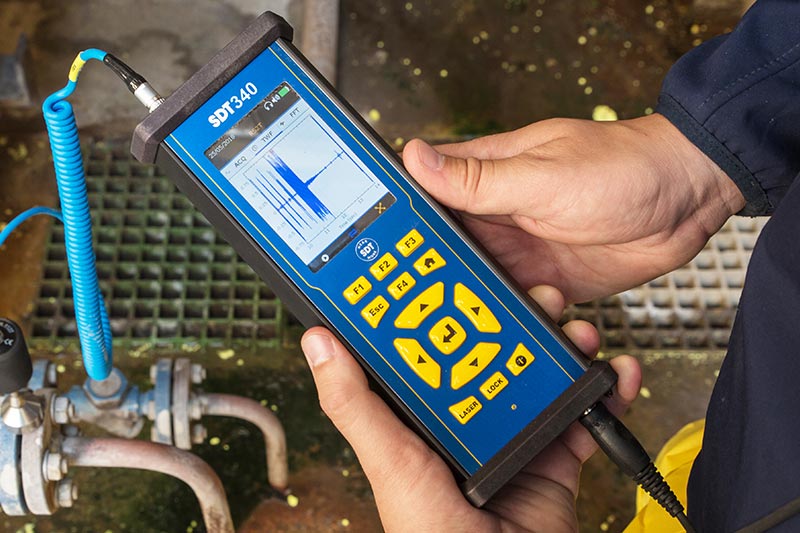 Crystal Clear Visuals
The SDT340 gives you the option of viewing essential information directly on the detector itself, and allows you to view images including the machine, the specific point to be examined and the sensor required – all easily imported from UAS3.
With clear visual indications at your fingertips, you can carry out inspections confidently and efficiently, ensuring that every task is done precisely and that measurements are taken in exactly the same place every time. Once you've taken these measurements, simply return to the UAS3 software to effortlessly update the measurements for the corresponding point.
To top it off, thoughtful icon navigation speaks to the user in any language, while a split screen view adds versatility to in-the-field tasks.
Built for Durability
The SDT340 is designed to withstand the rigors of the field. Its extruded aluminum case is protected by shockproof rubber, ensuring it can handle the bumps and knocks of daily use. For added protection and cleanliness, you can opt for the heavy-duty nylon holster, which prevents dust ingress and general wear and tear while keeping your ultrasound unit in pristine condition.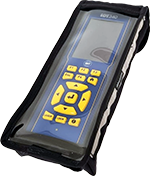 High Signal Resolution (HSR)
When it comes to diagnosis, accuracy is paramount. The SDT340's High Signal Resolution (HSR) feature increases the sampling rate and sensitivity, allowing you to confidently detect even the most challenging defects. It's your tool for uncovering hidden issues and ensuring your assets are in top shape.
Continuous Innovation
Our commitment to innovation drives the SDT340. We aim to be at the forefront of ultrasound hardware, software, and training. By staying connected to our customer partnerships, we continuously improve our products. We believe in keeping our customers informed about these innovations, which is why we've dedicated a section in the device where you can explore all the exciting additions to your predictive maintenance tool. With the "About the update" section of the SDT340, you'll never have to wonder what's new.
Lifetime Warranty
We stand behind the quality and durability of the SDT340. That's why we offer an unprecedented Lifetime Warranty. Imagine never having to worry about repair costs for your ultrasound detector again. We build products that stand the test of time, and our reputation backs that confidence.
UAS3 Analysis Software

Manage data and organize team strategy with
Ultranalysis® Suite 3
, the most flexible, complete condition monitoring software solution available.