Downtime is a constant threat to your assets
It's a fact: All machines can fail. Therefore, you need a solution that helps predict those failures early.
Schedule your maintenance tasks on your terms. Let SDT help you take back control of your assets.
Whether it's in the form of equipment failures, unplanned production downtime or costly, last-minute repairs, you need a device that helps you maximize uptime, minimize costs and maintain control of your assets.
The SDT270 ultrasound detector provides greater insight into the health of your assets
It helps you control energy costs, predict failures, improve product quality and increase overall production uptime. With your SDT ultrasound solution, you have the ability to predict and prevent failures before they occur. In other words, stop relying on the reactive, fire-fighting maintenance measures of the past and start a proactive approach.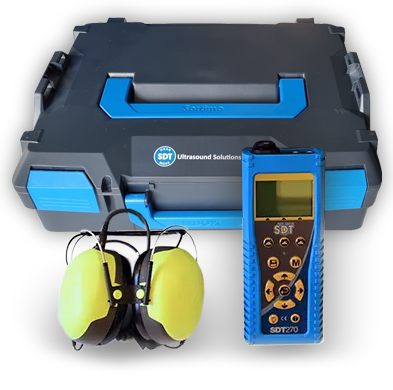 Use your SDT270 ultrasound solution for a number of applications in your plant:
A holster is available as accessory to protect and keep clean the SDT270.
The heavy-duty nylon holster for the SDT270 prevents dust ingress, and general wear and tear,
while keeping the encased ultrasound unit clean.
UAS3 Bearing Toolbox
Diagnose bearing faults with the game-changing Bearing Toolbox feature on UAS3. Leave the time-consuming and annoying research in the past. Simply select the desired bearing from our database (more than 50K references included!) and use the data to find out where the failure is!